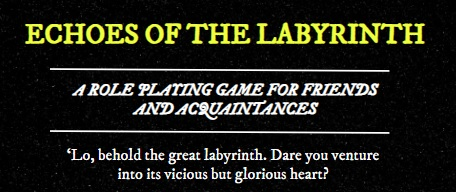 Echoes of the Labyrinth
The heart of the labyrinth calls out your name. Your very soul yearns to cross the liminal threshold and delve deep, seeking the promised treasures of ancient times. The labyrinth is a trickster, a living monument god who thrives on the lost and lonely.
Echoes of the Labyrinth is a role playing game of minimal proportions. One participant becomes the Heart of the Labyrinth, or Heart. They play the characters and monsters within the monument god's walls - kind and savage alike. They set the traps, craft the puzzles and adjudicate the rules. The other players are Yearning Delvers - those who have answered the soul call of the Labyrinth. They be warriors, scoundrels and low magicians.
A simple, hackable game based on Tunnels & Trolls. The book includes:
All the rules you need to play - grab your d6s
A bestiary
Setting information
Purchase
In order to download this game you must purchase it at or above the minimum price of $2 USD. You will get access to the following files:
Echoes of the Labyrinth (4).pdf
2 MB