Heartseeker
Now includes an awesome character sheet by Francesco Zanieri!
A 2-page traditional fantasy adventure game based on the original from the 1970s.

Inspired by games like OSE, Searchers of the Unknown and Holmes' blue book, Heartseeker has everything you need to play a classic fantasy campaign in just two pages. The game features:
A simple d20 system
Five classes and 9 bloodlines
A simplified Vancian magic system
All the rules needed to run a game
A short monster list
A creative commons license to create your own hacks
Heartseeker soundtrack
Whitesnake – Here I go Again
Ratt – Givin' Yourself Away
Queensryche – Eyes of a Stranger
AC/DC – Thunderstruck
Dokken – Dream Warriors
Dio – The Last in Line
Bon Jovi – Runaway
Scorpions – Winds of Change
Guns n Roses – Rocket Queen
Rainbow – Tarot Woman
Poison – Nothin' But a Good Time
Savatage – Hall of the Mountain King
Iron Maiden – Wasted Years
Listen on Spotify: https://open.spotify.com/playlist/1JbzoWJdsnKK3Rzkh1mCTu?si=kfRC-ejhSRSiHXaB_ROu...
Find out more at https://write.as/heartseeker/
Download
Click download now to get access to the following files:
Exclusive content
Support this game at or above a special price point to receive something exclusive.
Print Edition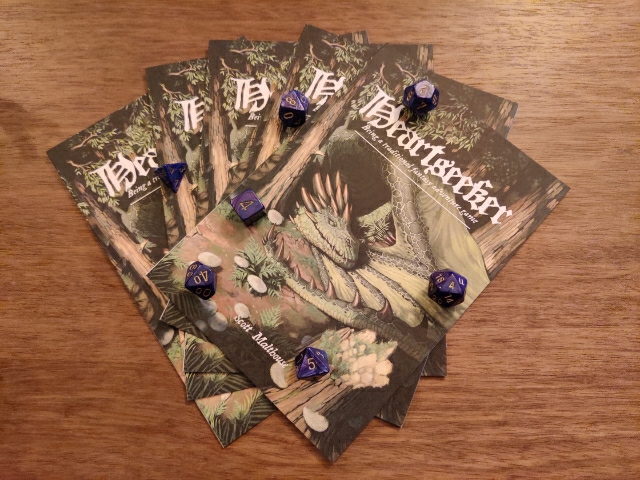 The print edition of Heartseeker is printed on 250gsm paper, with 4 pages including cover and character sheet.
Due to the way Itch works, once you place an order I'll email you for your shipping address.